For fifty years, Nelson County Implement has been supplying and servicing lawn and garden machines in the Bardstown area.
"Service, service, service," said co-owner Roy Bennett. "That's what is important to us."
Bennett's father Donald Bennett started the dealership in 1964 as a Ford tractor dealership. Located on Guthrie Drive, they soon needed more room to expand and in 1974 moved to its present location on Louisville Road.
Little Roy Bennett was involved in the business from a very young age and he remembers assembling tractors as a 10-year-old.
"The tractors would come in on crates, and I didn't have anything else to do so I'd start setting them up," Bennett said. "I've been doing it since I was a kid."
In 1988, they began selling Cub Cadet mowers and in 2008 they began selling Dixie Chopper mowers. Bennett said their motto for decades has been to offer good deals and to take care of their customers after the sale.
"We emphasize service after the sale, personal attention and to be here for our customers now and in the future," he said.
Bennett said their customer base is extremely important to them.
"We have a lot of return customers and lot of new customers every year," he said. "From here and from all surrounding counties."
Nelson County Implement now solely offers lawnmowers and services the lawnmowers that it has sold. Larger big-box stores may sell lawnmowers as well but they don't usually service them, Bennett explained. He said customers can count on Nelson County Implement to take care of and maintain any machine purchased from them.
"We do one thing," he said. "We do lawnmowers and we do it well."
And customers may get a better deal at Nelson County Implement, which is able to offer good deals on their mowers because they have been a top dealer with Cub Cadet for several decades. And large chain stores certainly don't have the community roots or the family history that Nelson County Implement has. Three generations of the family work at the store and founder Donald Bennett comes in every day. His grandson, Damien Ulrich, who is the Service Manager, is the third generation of his family to work at the business.
Nelson County Implement has been family owned and operated for fifty years (they celebrate their 50-year anniversary this year) and it looks like the tradition may continue for future decades since Bennett's four-year-old son, Brodie, loves to go to "Daddy's work."
"He wants to come to work with me right now," Bennett said. "That makes me proud."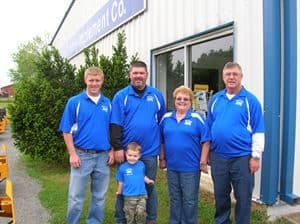 Left to Right: Damien Ulrich 3rd generation, Little Brodie Bennett 3rd generation, Roy Bennett 2nd generation, Mary Etta Bennett 1st generation, Donald Bennett Founder and 1st generation.